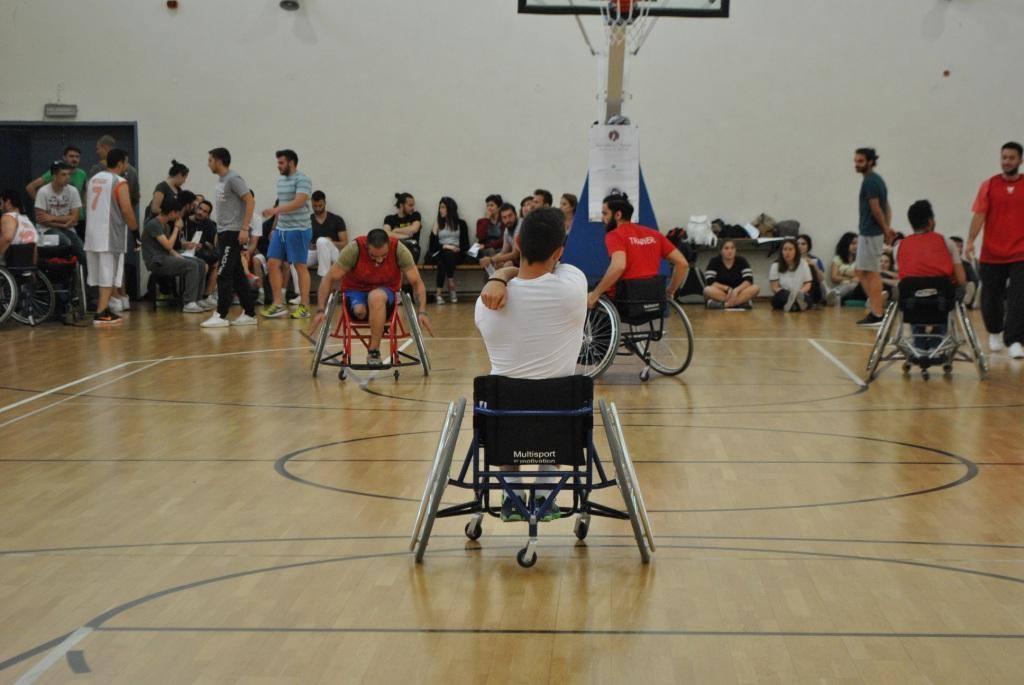 On May 17, The Athletic Association of people with mobility disabilities "IRODIKOS", in cooperation with The Athletic Association A.mea. "Hephaestus" from Patras co-organized the presentation of the new sport of "T. In. Basket" (Totally Integrated Basketball) at S.E.F.A.A the Democritus University of Thrace.
"T. In. Basket" is the new developing sport which is played mixed by disabled people (a.mea.) wheelchair users and non-disabled people. It is a modern variant of basketball with the aim of developing cooperation and sport for people with and without disabilities. For the first time in a team sport, the participation of athletes with disabilities and athletes without disabilities as equals in a team with a common time of participation and responsibility during the competition is combined.
In Greece there is a strong resonance of the sport due to the wider acceptance of both the sport of basketball and wheelchair basketball (the most widespread team sport in A.mea.).
The aim of the action was the development and promotion of the sport through actions and workshops with the participation of A.mea., students, academic and sports clubs involved in basketball in order to highlight the specificity of the new sport and the pleasure offered by the joint participation in it of disabled athletes and non-disabled people.
The action took place on Tuesday, May 17 at the indoor basketball court of the Democritus University of Thrace. First was the theoretical presentation of the sport by the athletes of A.S.Amea. "Hephaestus" Gerasimos Metaxas, Dimitris Kanellopoulos and Minos Stamatis. Then students and other interested parties proceeded to the practical approach of the sport. The attendance was great and the interested parties learned a new sport both in theoretical and practical terms.
The action was carried out and financed in the framework of the implementation of the program under the name "points of support", through the cooperation of the "Latsis Public Benefit Foundation" in cooperation with the "Tima Public Benefit Foundation" and the charitable organization "Hellenic Hope".